Farmers Markets
Axbridge, Saturday 2 September, Market Square 9am – 1pm
Wells, every Wednesday, Market Place 9am – 2.30pm
Taunton, every Thursday, High Street 9am – 3pm
Bridgwater, Every Friday, Fore St, 9am – 2pm
Weston-super-Mare, Saturday 9 September
Burnham-on Sea, Friday 29 September, High Street 9am – 1pm
Markets & Car Boots
Brean Leisure Park, every Saturday and Sunday – open air market
Brean Leisure Park, every Tuesday – car boot
Brean Warren Farm, every Wednesday – open air market
Burnham-on-Sea Speedway Stadium, Thursday – car boot
College Rd, Clifton, Bristol BS8 3HA
Open daily 9.00 – 5.00
Tyntesfield is a Victorian Gothic Revival house and estate near Wraxall, North Somerset, England. The house is a Grade I listed building named after the Tynte baronets, who had owned estates in the area since about 1500.
Wraxall, Tyntesfield, Bristol BS48 1NX
Open daily 10.00 – 6.00
https://www.nationaltrust.org.uk/tyntesfield
Temples, lakes and formal beds, joint work of design greats Gertrude Jekyll and Sir Edward Lutyens.
Hestercombe, Cheddon Fitzpaine, Taunton TA2 8LG
Open daily 10.00 – 6.00
Wells with the cathedral, bishop's palace, Vicar's Close and weekly market.
Glastonbury, known for its ancient and medieval sites, is rich in myth and mysticism. Glastonbury Tor is linked to Arthurian legend and overlooks the Somerset Levels. Said to be King Arthur's burial place, Glastonbury Abbey is a ruined monastery dating to the 7th century.
https://www.glastonbury.co.uk/
Over 90 famous name stores offering up to 60% off, so you'll find a fantastic range of men's, women's and children's fashions and footwear plus gifts.
https://www.clarksvillage.co.uk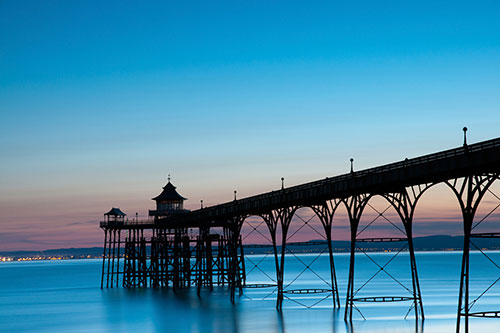 Clevedon Pier was built in the Victorian hey-day to receive paddle steamer passengers from Devon and Wales.
Garden Centres
Sanders Garden Centre
Bristol Road
Brent Knoll
Burnham-on-Sea Somerset TA9 4HJ
Open:
Garden Centre:
Monday to Saturday – 9.00 to 6.00
Sunday – 10.30 to 4.30
Restaurant:
Monday to Saturday – 9.00 to 5.00
Sunday – 10.00 to 4.00
https://www.wyevalegardencentres.co.uk/stores/sanders-2176/
Hutton Garden Centre
6 Banwell Rd, Hutton, Weston-super-Mare BS24 9UB
Open:
Monday to Saturday 9.00 – 5.30
Sunday 10.30 – 4.30
http://www.huttongardencentre.co.uk/
Banwell Garden Centre
Castle Hill, Banwell BS29 6NX
Open:
Monday to Friday 8.30 – 5.30
Saturday 9.00 – 5.30
Sunday 10.00 – 4.30
http://banwellgardencentre.co.uk/
Cheddar Garden Centre
Draycott Rd, Cheddar BS27 3RU
Open:
Garden Centre:
Monday to Saturday – 9.00 to 6.00
Sunday – 10.30 to 4.30
Restaurant:
Monday to Saturday – 9.00 to 5.00
Sunday – 10.00 to 4.00
https://www.wyevalegardencentres.co.uk/stores/cheddar-2249/
Cadbury Garden Centre
Smallway, Congresbury BS49 5AA
Open:
Garden Centre:
Monday to Saturday – 9.00 to 6.00
Sunday – 10.30 to 4.30
Restaurant:
Monday to Saturday – 9.00 to 5.00
Sunday – 10.00 to 4.00
https://www.wyevalegardencentres.co.uk/stores/cadbury-2254/
Monkton Elm Garden Centre
Monkton Heathfield, Taunton TA2 8QN
Open:
Monday to Saturday 9.00 – 5.30
Sunday 10.15 – 4.15
http://www.monktonelmgardencentre.co.uk/